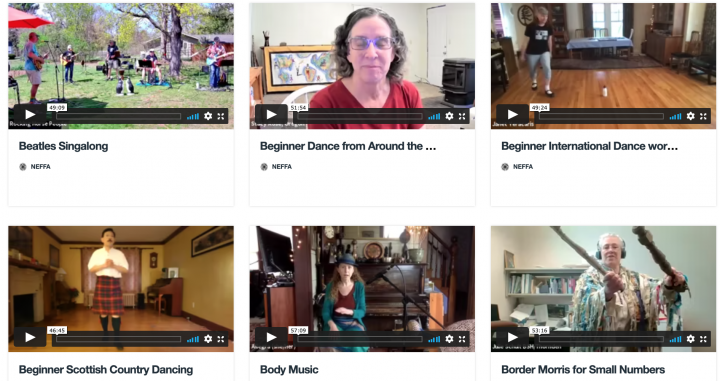 Hello performers!
Our live, Zoom-based NEFFA program is coming together rapidly, and will be unveiled to the public in mid-March.
Whether or not you are part of that program, we invite you to share your videos with the NEFFA audience as a second component of NEFFA Online 2022. All appropriate videos will be released for viewing on the first day of the Festival. Selected videos will be screened in the Zoom Video Hall at designated times during the live program.
Deadline for video submission: April 10 (but don't wait!)
Upload videos using this form:
https://forms.gle/zMSbzZWb6JGY3js76
Sing for us! Play for us! Dance for us! Call a dance for us! It's up to you — share whatever you feel moved to share with the NEFFA community .
The only requirement: that the video be addressed to the online NEFFA attendees — we're aiming for the personal feel of a live show. Ideally the video would be made for NEFFA, but a video introduction to a pre-made video could also be appropriate. Please combine files into one video for upload–reach out if you need help with this.
Preferred length: less than 10 minutes per performer/group (time limit not strictly enforced, max file size 1GB). Landscape (wider than high) is best. Make the overall production quality as good as you can, but we're happy with whatever you can give us!
All videos will be hosted in the NEFFA video archive and may be featured on the NEFFA website and social media. Selected videos will be screened or danced to in our live Zoom-based program. By submitting your video, you give permission for these uses.
We want to prominently feature opportunities to support the livelihoods of professional and semi-professional performers, so make sure to include a link to your website and/or tip jar in the submission form if you fit that description.
Contact program@neffa.org with any questions or if your video fails to upload through the submission form. Look forward to screening your videos at NEFFA 2022 Online!
Warmly,
Lynn Noel
NEFFA Program Chair