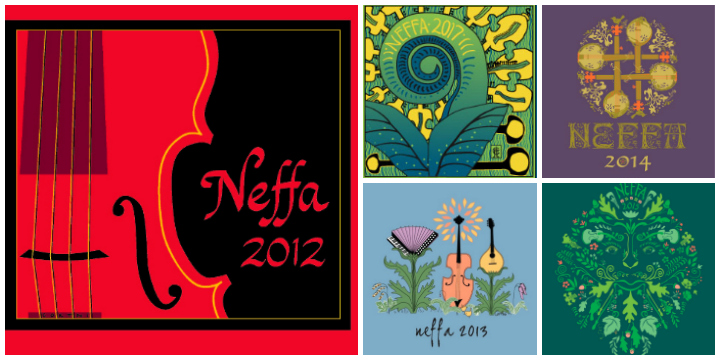 Get yer' NEFFA Festival Souvenirs! Whether you were at this or past Festivals in body or just in spirit, we've got official NEFFA merchandise for your buying pleasure.
NEFFA Festival T-Shirt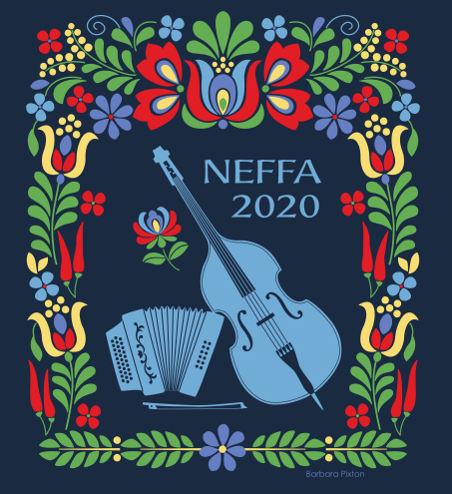 2020 Neffa Festival T Shirt
Design by Barbara Pixton
100% cotton in men's and women's sizes, $15
Available at the Festival at the Performer Sales Table
Books by Larry Jennings
The New England Folk Festival Association (NEFFA) is pleased to present "Give-and-Take," by the late Larry Jennings. "Give-and-Take" is the sequel to Larry's 1983 "Zesty Contras." Nearly one-half of "Give-and-Take's" 176 pages consist of dance sequences (628 of them, plus 90 more variations), one-quarter are pedagogical material, and one-quarter everything else (including provocative remarks, exhortative essays, arcane analyses and guidance for dance administrators). Click Here for more info.
The 50th Anniversary Coffee Mug
An extra large cobalt blue coffee mug has a handle you can get four fingers through. It is decorated in salmon and turquoise with words that evoke memories of Festivals present and past. The design is by Dan Pearl. This item was issued in 1994 and reissued in 1996. Now you can get the perfect mug for the office or replace the mug you broke last year. Also serves as a pencil cup. $5