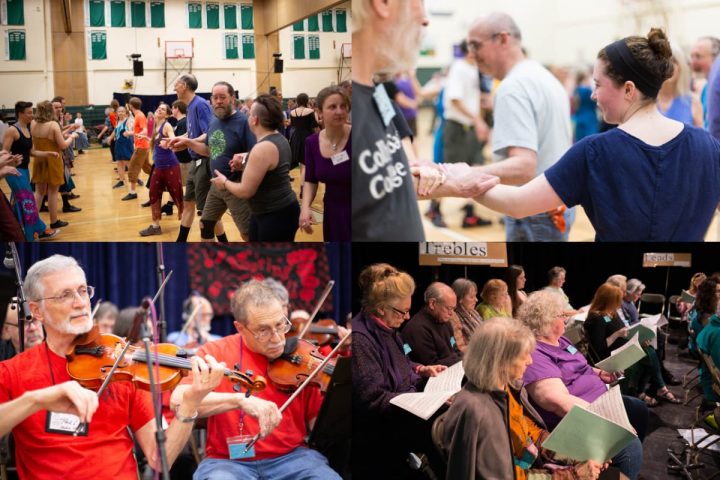 Dear NEFFA Community,
The Festival is almost here! You and your favorite performers are doubtless eager to connect and enjoy each other's company in a virtual hall at NEFFA. It's super easy!
Go to www.neffa.org and click the blue button that says Register/Lobby. The first time you do this with a new device/browser combination, it will take you to the Registration page. Enter your name and email address, and make sure you read and agree to the NEFFA Code of Conduct. Then click Register to go to the Lobby.
This process places a cookie on your machine so that NEFFA knows you have registered. Registration does not send an email confirmation–this email is your reminder. Please remember that registration is FREE with an invited donation to the revenue-sharing fund for performers and techs.
Once your device/browser is registered, you can go back to www.neffa.org and click the Register/Lobby button any time to go directly to the Lobby. From there, click the Big Blue Button for any hall to enter that Zoom meeting.
Three clicks is all you need to get to Online NEFFA!
1) www.neffa.org
2) Register/Lobby
3) Big Blue Button to enter your hall
You can be proud to be a part of one of the largest festivals online! NEFFA runs from:
Friday 4/22 7-11pm
Saturday 4/23 10am-11pm
Sunday 4/24 10am-5:30pm
We have three virtual dance halls and eight for folk music and song, plus the Cafeteria and the Help Desk. Each is its own Zoom meeting accessible from the Lobby.
The Register/Lobby button is "magic" — if your device/browser is not registered, it prompts you to register, but if you have already registered, it's a direct link to the Lobby. All you need is www.neffa.org!
See you at the Festival!
Warmly,
Lynn
_________
Lynn Noel
NEFFA Program Cha