Tune in and enjoy as NEFFA comes to you, with live online events every month! After the concert, all are welcome to stay online to hang out, socialize, and connect with our beloved NEFFA community. These monthly concerts will be recorded and will be also be made available on the website.
Mark your calendars for our next online concerts:
Sunday, September 19: Nicole Singer & Becky Wright
Sunday, October 17: Jim & Susie Malcolm
Online Monthly Basics
Although the event is free, we strongly encourage a $15 donation if you are able, to show the musicians our appreciation and gratitude.
Past Online Events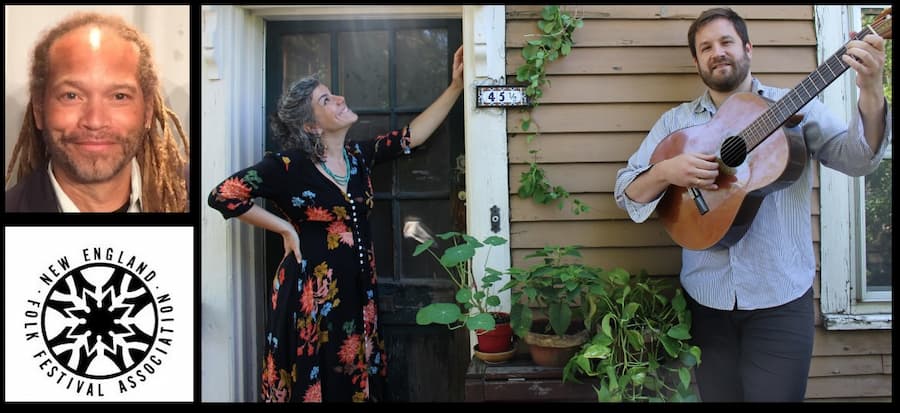 Storytelling with Rochel Coleman, and song with Sophie et Adam!
On Sunday, July 18 at 7 PM, NEFFA Live Online! is proud to present an evening of storytelling with Rochel Coleman, and song with Sophie et Adam! After the concert, all are welcome to stay online to socialize and connect with our beloved NEFFA community!
Rochel Garner Coleman is an artist whose main purpose is to create stories that educate, enlighten, empower and entertain, with a specific emphasis on engaging and inspiring young imaginations. Rochel reaches approximately 80,000 children and young adults a year with his broadcasts and performances in schools, hospitals and youth facilities throughout the United States.
Rochel has been a working actor since the age of ten and a veteran of more than two hundred professionally staged productions. Rochel maintains a busy schedule performing, directing and teaching across the United States and in Canada, Europe, Africa, and the West Indies. He presents living experiences that sweep audiences into a world of imagination colored with the stuff of life.
Sophie et Adam is a duo inspired by many singing traditions they have crossed paths with on their musical journey. Pub Songs from England, Cabaret chansons from 1940s Paris, 18th century Sacred Harp singing, Milongas from Argentina, Scottish Ballads, and Sing-Songwriter repertoire from Chile... Regardless of the origin or the time period, they share music that moves them with their audiences. Individually they collaborate musically with some of the most vibrant ensembles in New England: The Boston Symphony Orchestra, Boston Early Music Festival, The Lorelei Ensemble, A Far Cry, Blue Heron, Harvard University, the Trinity Church of Boston, etc. But as a duo, they create a warm and intimate moment in which time stops, and music from around the world speaks.
---
About our fabulous musicians:
-Amy Larkin learned folk music at her daddy's knee, he being a fifer in the Lincoln Minute Men. Based on Cape Cod, Amy is a contra dance catalyst who runs the gamut from Cajun/Zydeco and Latin to 60s rock and roll and Irish pub music. Dancers love her driving melodies and harmonies, and joyful interactive energy!
-Rose Clancy's unique fiddle style embraces Northern Irish, Scottish, and some French Canadian influences. She is the proprietor of The Chatham Fiddle Company, where she also builds and repairs instruments.
-Accomplished guitarist Max Cohen balances tremendous sensitivity with driving rhythmic power. Poet Jane Yolen says, "We know we are in the best of hands when Max is in the band."
-John Alden on bass has been a stalwart of the Cape music and dance scene for decades, and was a long time organizer of The Cotuit Dance (formerly Marstons Mills).
-Clayton March, who leads a dual musical life as a clarinetist and Irish fiddler, will be providing technical assistance and joining in to make the evening a triple fiddle feast.
---
Mar 21, 2021 - Alex Cumming, The King's Busketeers
Concert Program
7 PM - Alex Cumming
Alex Cumming is a traditional Singer, Accordionist, Pianist and dance caller hailing from Somerset, England, now living in Greater Boston, MA, USA. He performs songs and tunes from around the United Kingdom and America with a great depth of knowledge of the tradition. Alex has made his mark on the folk scene with his rhythmic dance-able accordion style, strong voice and his fun and engaging stage presence.
7:45 PM Liza Constable
Singer and guitarist Liza Constable presents a sweet collection of American jazz -"America's classical music"- songs from the 20s to the surprisingly recent. A master of understatedly intense vocal styling, Liza's smooth, elegant voice gets beneath the lyric to the deeper meaning in the words.
8:30 PM The King's Busketeers
The King's Busketeers are a high-octane party folk group from Massachusetts (and a little bit Rhode Island) that makes traditional songs from the British Isles and North America shake the rafters, with some bardic acapella hollering and floor-stomping originals added in for flavor.
9:15 PM - YOU!! Open Mic - bring a song, story, or tune to share!!
---
February 28th, 2021 At 7 PM EST
Peregrine Road (Karen Axelrod & Rachel Bell)
Homegrown String Band (Georgianne, Rick & Annabel Jackofsky)
Andy Taylor-Blenis
Concert Program:
7 PM
Peregrine Road -- Karen Axelrod and Rachel Bell (on piano and accordion) perform energetic Celtic reels, heartbreakingly beautiful waltzes, mesmerizing French village dance tunes, lively originals, elegant English country dance tunes, tasty blues riffs, and more.
Website
8 PM
Homegrown String Band -- This "family that plays together" has been performing around the country, from the National Theater in Washington, DC, to Silver Dollar City in Branson, Missouri, since 1997. Inspired by the rural string bands of the early 20th century, this 21st century incarnation of the traditional family band utilizes unique instrumentation including guitar, banjo, dulcimer, mandolin, ukulele, harmonica, and jaw harp to put their own stamp on a repertoire drawn from the classics of rural American music.
Website
9 PM
YOU!! We will have a few different breakout rooms for social time together!
(To optimize your breakout room experience, please update to the latest version of Zoom: https://zoom.us/ )
-Andy Taylor Blenis, joyful dancer and master teacher will lead a Polynesian & Japanese dance performance and workshop!
Website
-Q&A with Peregrine Road!
-Q&A with Homegrown Stringband!