"The Essence of the Past Driving the Spirit of the Future"
January 17, 2021 from 1-4:15 PM EST
Laugh, Listen, Learn, Dance, and Jam with some of the finest talent New England has to offer: We combine the best of traditional and contemporary New England contra dance and music with some of the best musicians and dance callers around.
After the event comment: -"First, FANTASTIC! I really think it hit the right chord. The length of the event and each of its components felt just right. I came away with a sense of the community that I get from the in-person events, which I hadn't expected. Magical........" C.
Join us Sunday afternoon January 17, 2021 from 1- 4:15 PM EST for this virtual event. It will be an afternoon of great music, great traditions and great fun.
⇝ Program Schedule (updated 1/11)
⇝ Performers
After Effects and Videos:
Becky Tracy and Keith Murphy did a fantastic performance for the 2021 virtual Ralph Page. We have received many accolades for their concert performance and jam session. They played the tunes we all needed to hear to end the weekend with - Money Musk and Ameila. We are honored and pleased that they were part of this year's event.
Instead of the recorded concert session we would like to provide you with a link to their CD release on Facebook Live. We encourage you to visit their website and purchase their latest CD—"Golden."
Randy Miller, "The View from the Fiddler's Throne"
Introduction by Paul Lizotte
Randy Miller, a NH State Council on the Arts Master Teacher of Contra Dance Music, shares tunes and stories connected to his experience playing for dances in the Ralph Page era. On accordion and fiddle, he'll include some tunes associated with Ralph Page, Duke Miller, and Newt Tolman, along with some of the Francestown dance tunes made famous by Allan Block.
Website: fiddlecasebooks.com
TED (SANNELLA) TALK - David Millstone and David Smukler
TED (SANNELLA) TALK
David Millstone and David Smukler
David M. and David S. reflect on Ted Sannella's career as a New England dance caller on this, the 25th anniversary year of Ted's death, in preparation for a full retrospective at next year's RPDW. They share some of the comments they have gathered and they invite participants to share their memories and experiences by sending Ted stories to SannellaStories@gmail.com.
Website: sannellastories.syracusecountrydancers.org
CRACKING CHESTNUTS: David Smukler and David Millstone
David and David describe projects related to their love of classic New England dances. Cracking Chestnuts went from workshop to newsletter column to book to a video project, and on the way created newfound interest in the classics in general and Money Musk in particular.
International Dance Session
Marcie Van Cleave, session leader
Jim Madigan, sound tech, videographer.
INTERNATIONAL DANCE: Ralph always included some international dancing in his programs; to continue his tradition, Marcie Van Cleave will teach and lead dances from other cultures that you can learn and follow on Zoom.
Marcie has been an active participant and teacher at the Ralph Page Legacy Weekend for many years. She also brings the Folk Arts Center of New England's Music Shop ("The Little Shop of Horas"!) to the weekend - a place to purchase music, CDs and more. As the Executive Director of the Folk Arts Center, Marcie support the organization's mission "to promote the participation in and appreciation of the traditional folk arts" - a mission shared wholeheartedly with NEFFA (the sponsoring organization of the Ralph Page weekend), the members of the RPLW Committee, and the participants themselves. Marcie is happiest when sharing traditional dances as a dance leader and caller, and very much appreciated the opportunity to participate in this year's on-line celebration of Ralph Page and traditional New England contra and square dancing.
---
Contact Us
• Please Email: register@ralphpage.neffa.org
New To Zoom?
Do you want additional information to ensure you have a great Ralph Page Virtual Event? We have two ways you can acquire or brush up on your Zooming skills.
One WATCH!
This video by Seattle musician WB Reid covers how to prepare for your first Zoom experience and provides a step by step review of key features that a user will need to have a successful experience.
Two READ!
This set-by-step How-To document is written to accompany the video and includes information on how to join breakout rooms.
Zoom Requirements
Version 5.3.0 or later. Older versions of Zoom will not allow you the freedom to self-select event rooms. Because Zoom issues frequent updates, you may want to update to the latest version of Zoom a day or two before the event. Zoom offers a tutorial on how to join: Click here for yet another tutorial.
Community
The response to this event is fantastic. Looking forward to seeing you tomorrow.
Choose Your Own Path
Four tracks (International dance with Marcie VanCleave, Randy Miller musical history tour, and a jam with Keith and Becky, and a social chat room with Andy and Rich- check the updated schedule.) will take place in a different room of our virtual Hall during the middle of our "Sunday afternoon weekend". If you have Zoom 5.3.0 or later installed on your device, you can join any track, and move from one track to another, by using the Breakout Rooms function.
Participation
We welcome you to tune in just to chat, listen, and watch.
Send us those Questions you always wanted to ask, either before the session (register@ralphpage.neffa.org ) or put you question in the "chat function" and our moderators will do their best to get to as many questions in the session as we can.
Are you a musician? Pull out an instrument or two and play along with the tunes (with your microphone muted please).
There is lots less dancing than we would have on a typical weekend. All of your dance partners live elsewhere? Feel free to do whatever is comfortable for you, including leaving your camera off just sway in that comfy chair you are in.
What a year 2020 was. Let's take some time to reconnect together. So laugh, cry, dance. We are just glad to be spending time with you!
Expectations
We want you to feel safe and comfortable at this event.
That includes not being expected to tolerate inappropriate behavior on the part of others. If there is anyone bothering you, please contact a Sound Tech via the Private chat function. We can and will eject anyone who crosses boundaries.
This event is sponsored by the The Ralph Page Committee
Tod Whittemore, Chair
New England Folk Festival Association.
Ralph Page Performers 2021
Becky Tracy and Keith Murphy
Becky and Keith are dynamic performers of traditional music from Newfoundland, Quebec, Ireland, France and beyond. Tracy's fiddling pulses through tasteful arrangements of dance tunes and resonates with beauty on traditional slow airs. Keith's gentle and expressive singing in English and French is balanced by the drive and power of his guitar playing and foot percussion. Combined, they produce a range and richness of sound that is striking for a duo. Their playing is seamless, the result of years of playing together and touring across the U.S., Canada and in Europe. Their repertoire also includes Keith's original compositions (many of which are included in the Black Isle Music tune collection). He is a prolific tunesmith with a writing style strongly based on traditional dance music. This music is elegantly represented in their duo recording, Golden, released in early 2020.
Randy Miller
Randy Miller has played fiddle and piano at contra dances and Irish sessions throughout New England and nationwide for more than 40 years.
He maintains a busy schedule playing for dances, concerts, Irish sessions, and teaching fiddle. He has led workshops at numerous festivals throughout the United States and was designated a Master Teacher of Contra Dance Music by the New Hampshire State Council on the Arts.
​
Randy is co-host of several regular Irish music sessions in the Connecticut River Valley and is the dance fiddler for The Inn at East Hill Farm in Troy, New Hampshire. He has recorded four albums of traditional New England and Irish fiddle music. Randy and guitarist Roger Kahle make up the band, Shindy, performing at dances, festivals, sessions, and weddings.
David Millstone
David Millstone started contra dancing in the early 1970s and has been calling dances for some 40 years. His monthly dance from 1980 to 2015 was with the band Northern Spy in Norwich, Vermont, one of America's longest running contra dance series. With an American repertoire ranging from traditional New England chestnuts to high-energy recent compositions, he calls contras, squares, and interesting dances in odd formations. He is an experienced caller of English country dances, and he also enjoys calling for family dances, weddings and other special events.  
He is known for his clear and supportive teaching style, the breadth of his repertoire, his sense of humor, and his ability to pick dances that offer the right level of challenge for all audiences.
A dance historian, he is co-author of Cracking Chestnuts, a book about classic American contra dances published by CDSS. He also wrote the contra dance history chapter of Dance a While (tenth edition) and the liner notes on dance history for the "Contra Roots and Branches" CD. He coordinates the Square Dance History Project, a major initiative that is building a digital library —moving images, audio clips, photographs, and text — exploring all different styles, past and present, of square dance. His video documentaries about Bob McQuillen, Dudley Laufman, and Ralph Sweet are well regarded. His most recent publication, "The Dolphin Hey: The Evolution and Transmission of a Dance Figure," appeared in CD+S Online in April, 2019.
David Smukler
As a teen in the mid 1960s, I started doing this thing called "contra dancing" at a summer camp in New Hampshire. I loved it! I Dancing became a lifelong habit.
In 1981 I began calling for dances in Salem, Massachusetts. I was asked to step in, because the local caller took summers off and we did not want to stop. I soon discovered that being a caller is a great opportunity to facilitate other people's sense of fun and discovery while having lots of fun myself!
Before the onset of the pandemic, I led many evenings of contras and squares, English country dances, family dances, school programs, and special events such as weddings, festivals, etc. I also presented workshops on numerous dance related topics. My taste in dances is eclectic, and I tended to present a wide variety of dances when I called. My repertoire of American dances includes plenty of New England-style contras, as well as an assortment of squares, singing calls, mixers, old chestnuts and freshly minted dances. I also have a special fondness for English country dances, and my English programs likewise blended old favorites with new gems. Fortunately, there is no dearth of wonderful dances to draw on!
International Folk Dance Instructor Marcie Van Cleave

Marcie brings a wealth of experience in traditional music and dance to our event. Since the mid-80s, she has been teaching dancing with high energy, good spirits and humor. She has attended and taught at many previous Ralph Page weekends. We are very pleased and excited to welcome back Marcie to lead us in dance. In her spare time (ha!) she also serves as the Executive Director (since 1988) of the Folk Arts Center of New England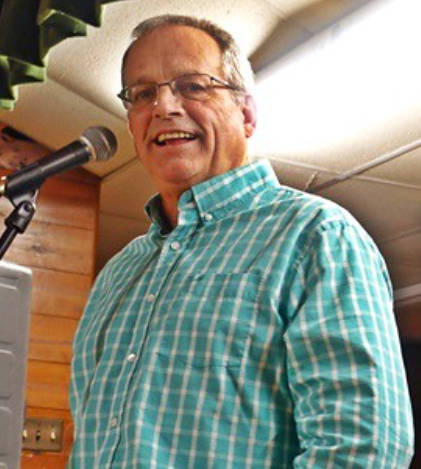 Tod Whittemore

Tod Whittemore has been calling dances for forty years, having been lucky enough to begin his career at the time when famous callers Ralph Page and Duke Miller were still active in the Monadnock Region. Tod has called dances all over the world, and is known for his humor, energy, and infectious love of dancing.