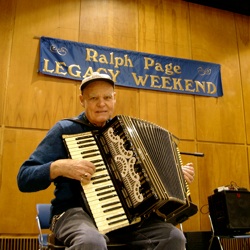 We have a very exciting assembly of callers and musicians this year, who will highlight our theme of the contribution of Bob McQuillen and how he carried on on the tradition in the spirit of Ralph Page.
Mary DesRosiers, caller. Mary DesRosiers is a New Hampshire native who has been calling traditional American dances for over thirty years. She has taught the contra and square dances and singing games of New England to audiences of all ages in town halls, schools, and at music festivals around the country. Mary makes learning the old-time dance steps easy and fun, and adds humor and a touch of historical context to every performance. She is dedicated to preserving the heritage of old-time music and dancing for all to share. Bob's waltz, "Mary is a Rose" (book 4), was written for Mary.
Julie Metcalf, musician. Julie Metcalf, fiddler and violist, can often be spotted at contra and English dances in the Boston area, either on stage playing fiddle or on the dance floor. Julie holds a degree in Violin Performance from Berklee College of Music. She has played Celtic chamber music on viola with the Folk Arts Quartet and Mexican music with Boston's Mariachi Palenque. She currently performs with Agnostic Fiddle Insurgency, The Gig Hunters, and The Bone Folders. Julie has taught at many previous Fiddle Hells, going back to the old days in Groton.
Julie is also an accomplished jawharp player; she plays jawharps from around the world, as well as other unusual instruments including the marxolin and mouth bow, in concert with Larry Unger.

Laurie Andres, musician. Bob McQuillen started his dance music journey playing accordion in the Ralph Page orchestra. For 2018 we have two accordion masters for our dancing pleasure, from Vermont, Andy Davis (see below) and from Seattle, Laurie Andres. Laurie is deeply skilled and experienced playing for contra and square dance, English Dance and Morris dancing. Laurie even designed his accordion!
Laurie has a very long performance resume, playing with many fine musicians at dances, major dance events and weeks, including with Bob McQuillen in the Rhythm Rollers. This weekend the 'Squeezebox' will sing, your spirit will soar, your feet will glide, all with an ear-to-ear grin. Who knew accordions were so cool?
Conor Sleith, musician. Conor Sleith was marinated in dance music from an early age, often found sleeping under the piano on Monday nights, McQuillen boom-chucking overhead. Later, as a student of Bob's, he developed a simple, driving, energetic style that diverged little from the essence of those formative nights in Nelson. Now living in the Boston area and working in the tech industry, Conor can still be found accompanying the occasional dance. "CoNor's Jig" (book 11) is a tune then Bob wrote for Conor.
Lisa Greenleaf, caller. Lisa Greenleaf calls regularly in the Boston and New England areas and has been a staff member at dance camps and festivals throughout the country and beyond. Her specialties include traditional and contemporary contras, fun squares, challenging dances of all shapes and sizes, and callers' training. Lisa likes to emphasize community and communication in her workshops, guiding participants to get the most out of their dancing or calling experience.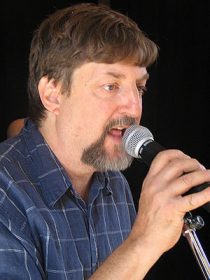 Steve Zakon-Anderson, caller. In 1980, Steve walked into his first contra dance, in Francestown, NH, not knowing that it would change his life! He started calling three years after that and has now danced, called, organized, and taught contra dances for over 35 years. Steve is appreciated by dancers for his skill at programming the right dances for the hall, for his clear and efficient teaching and for his sense of humor, and is appreciated by bands for his considerate weaving of his calling with the music.
Steve truly enjoys the role of facilitator aiding the wonderful connection between the music on the stage and the dancers on the floor. Steve has also written over 30 contemporary contra dances, many of which are used by callers around the country. Over almost 30 years Steve called monthly with Bob McQuillen in Peterborough NH, working with the bands New England Tradition and Old New England plus countless other musicians who were always thrilled to come and play a dance with Mr Mac. Steve greatly appreciates that he was able to attend two contra dances called by Ralph Page before he passed away, and since then has attended the Ralph Page Legacy weekend numerous times. Among the tunes that Bob wrote for Steve are "Zakon's Reel", in book 7, and "A to Z Waltz" in book 11.
Becky and Keith are dynamic performers of traditional music from Newfoundland, Quebec, Ireland, France and beyond. Becky's fiddling pulses through tasteful arrangements of dance tunes; Keith is known for the drive and power of his guitar playing and foot percussion. Their playing is seamless, the result of years of playing together and touring across the U.S., Canada and Europe. Keith is also a prolific tunesmith with a writing style strongly based on traditional dance music. Keith and Becky were two thirds of the popular Vermont trio, Nightingale and are veterans of several other bands including Childsplay, Assembly (Keith) and Wild Asparagus (Becky). They can be heard on recordings of all these bands and many others.
Andy Davis, musician. Andy Davis plays accordion for New England contra and square dancing. He is both a musician and dance caller specializing in community events for dancers of all abilities. For thirty years he has taught music and dance in Vermont public schools, summer camps – and at weddings, parties and community gatherings.
Andy is a founding member of "New England Dancing Masters," publishers of dance books and recordings for the teaching of New England traditional dance. He is also a part of the group "Nowell Sing We Clear," a Vermont based group that performs and records mid-winter carols and customs.
Andy's repertoire includes jigs, reels, polkas, marches and waltzes that would be part of an evening of community dance. He has composed a variety of dance tunes and songs. He lives in Brattleboro, Vermont.
Jane Orzechowski, musician. As part of the Sugar River (family) Band, Jane has performed at New Hampshire and Vermont schools, public dances, at the Eastern States Exposition, the Ralph Page Dance Legacy Weekend, the New England Folk Festival, at nursing homes, town celebrations, farmers' markets, and senior centers. Sugar River Band was recorded with Two Fiddles (Jacqueline and Dudley Laufman) for the book/DVD of Traditional Barn Dances With Calls & Fiddling and for the CD's of "Where'd You Get Them Chunes" and the Canterbury Orchestra's "Welcome Here Again".
Jane has been a featured musician with the Christmas Revels in Hanover and the Revels North Summer Solstice festivals. She helped represent New Hampshire at the Smithsonian Folklife Festival and at the Celebrate New Hampshire festival. As part of Old New England she has performed at the Millenium Stage (Kennedy Center), the East Lawn Concert series (U.S. Capitol) and the Library of Congress Neptune Plaza series. She has recorded with Old New England, Bob McQuillen, Dudley Laufman, Sarah Bauhan, Pat Sager, Green Mountain Volunteers, David Surette and for Smithsonian Folkways. Bob wrote "Jane's March" (book 10) and a number of other tunes for Jane.
Neal Orzechowski, musician. Part of the Sugar River band.
Sarah Bauhan, musican. Playing with the Sugar River band.
And many dozens of others of you will simply show up and join in, in the jams, on stage, and at the workshops.