Amy Larkin
Amy Larkin has been playing for New England Contradances for many years, all along the East Coast . In addition to Old Time, Quebecois, and Irish, Amy's repertoire includes Cape Breton and Cajun tunes. Amy is noted for her driving rhythms, endless creativity, and her ability to excite dancers of all levels.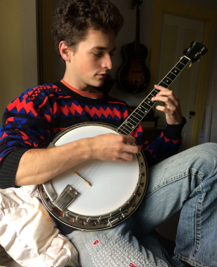 Benjamin Foss
Benjamin Foss is a musician and luthier based near Belfast, Maine. He is passionate about continuing the traditions of New England tunes, songs and dances and is always excited to share tunes and knowledge with the people around him. Benjamin plays in several contra dance combinations on fiddle, guitar, tenor banjo, and occasionally other stringed instruments.
David Millstone
David Millstone calls dances with a variety of bands in New England and farther afield. A caller for more than 40 years, Millstone has a large repertoire, including contras and traditional squares, family dances, and English country dances. He has produced three documentary films featuring Bob McQuillen, Dudley Laufman, and Ralph Sweet. He is a past president of Country Dance and Song Society, co-author of Cracking Chestnuts, and the founder and coordinator of the Square Dance History Project. He has appeared as a featured performer at dances, camps and festivals throughout the United States and Europe.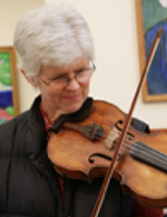 Jane McBride Orzechowski
Jane McBride Orzechowski plays Swedish, Celtic, New England and French Canadian musical genres. Throughout her career, Jane has sought to bring new talent to these traditional music disciplines, supporting and mentoring younger performers in their quest to preserve and expand these musical works and their heritage. She has been playing the fiddle since she was a child and was inspired by attendance at the New England Folk Festival. Jane has been a member of two long-standing groups: Old New England and The Sugar River Band, where she plays with her children. She has recorded CDs with The Canterbury Country Dance Orchestra, Dudley Laufman and her family band Sugar River Band, Sarah Bauhan, Skip Gorman, and 4 CD's of Old New England with Bob McQuillen and Deanna Stiles. In 2019, Jane was awarded the Governor's Arts Award for Folk Heritage.
Sarah Bauhan
Sarah Bauhan plays Celtic and New England traditional music on flute and whistle. She was born and raised in the Monadnock Region and has strong ties to her mother's native Scotland. Sarah picked up the tin whistle at the age of 10 and within two years was performing at contra dances with Dudley Laufman's Canterbury Country Dance Orchestra. In addition to Laufman, who is credited with a contra dance revival in southwest New Hampshire and is a 2009 National Heritage Fellow, Sarah was influenced by her godfather, Newt Tolman, a flute player and writer, and by Bob McQuillen, a musician, composer and a 2002 National Heritage Fellow. Sarah has released five solo albums, including four on her own label, Whistler's Music: "Chasing the New Moon," "Broad Waters," and "Lathrop's Waltz", and "Elmwood Station". In addition to recording, Sarah performs at festivals, concerts, and dances, and has taught whistle and flute to children and adults at dance camps, in schools, and in workshops. She lives in Hancock.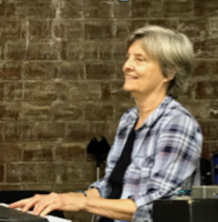 Debby Knight
Debby Knight is one of the most sought-after piano accompanists for contra dances––a regular at the Concord Scout House and NEFFA and a member of Free Association, Accéntricity, and many other bands over the years. Dancers delight in Debby's Quebecois inspired accompaniment and her distinctive improvisations at the keyboard.
Chrissy Fowler
Chrissy Fowler hails from Belfast, Maine, but she learned to dance, organize, and call when she lived in Seacoast NH. She treasures many aspects of the Ralph Page Weekend, including connecting with the broader "dance family", remembering dear ones who have passed on, and poring over the syllabi from past weekends. Chrissy is especially pleased to be part of this year's celebration of the past, present, and future of our participatory dance traditions!
Sugar River Band
The Sugar River Band plays traditional fiddle music from New England and Sweden on fiddles, piano, and accordion. New England dance music is influenced by French-Canadian, Irish, Scottish, English, and Cape Breton styles. The Sugar River Band has performed at the Christmas Revels in Hanover, Revels North Summer Solstice festivals and Ralph Page Dance Weekends. Regionally, they have performed at the New England Folk Festival, the Eastern States Exposition in Massachusetts and the Indian Neck Folk Festival in Connecticut. Jane and Francis performed in Washington D.C. at the Smithsonian Folklife Festival for 2 weeks on the mall.