The Festival will be at the Best Western Royal Plaza Hotel & Trade Center in Marlborough, MA.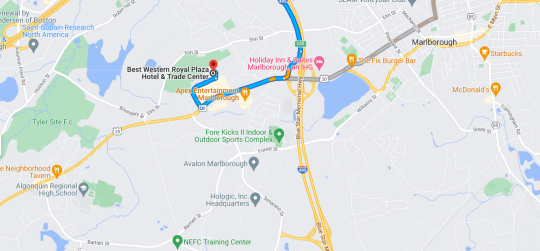 Driving instructions: Follow I-495 to US-20 W/Lakeside Ave in Marlborough. Take exit 63B from I-495. Follow US-20 W .8 miles, turn right onto Royal Plaza Drive .4 miles to your destination.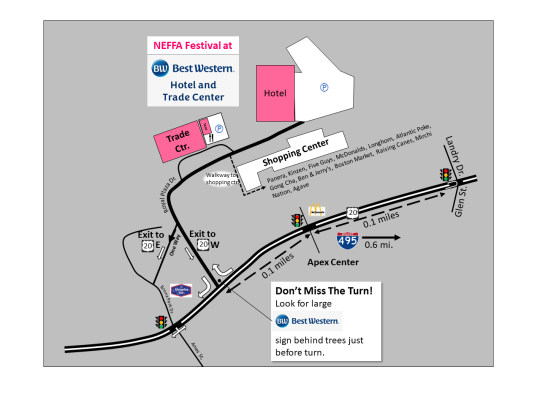 There's plenty of free parking at the hotel and Trade Center.
MBTA Commuter Rail's closest approach to the Festival is Southborough and Framingham, both on the FRAMINGHAM/WORCESTER line. Service is spotty, especially during the weekend. Once you get to the station, you are on your own, but NEFFA has teamed up with Lyft to provide discounted rides.
$15 Discount on rides from Lyft
Thank you for your interest in the Lyft discount program for transport to the NEFFA Festival.
The NEFFA discount code for Friday and Saturday is "NEFFA2023".  Ahead of time, enter this in the Lyft app: Go to the 'Payment' tab from the app menu. Find the Lyft Pass section, then tap 'Add Lyft Pass' to add your code. Tap 'Add Pass' to finish. 
For rides on Sunday, please repeat the above steps with the code "NEFFA2023SUN" as well.
When you're ready to ride, Lyft Pass will be applied automatically.
You may want to use the Lyft reservation feature to reduce waiting times.
Remember, the pass can only be used at the Festival site, and the Southborough and Framingham stations.
Happy travels and see you at the Festival!